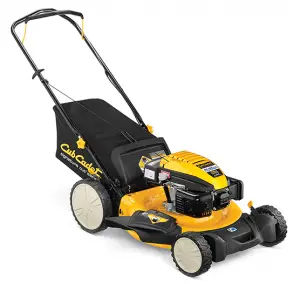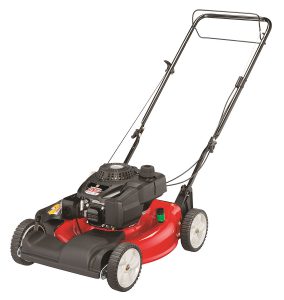 Walk behind mowers are a great choice for homeowners who own small or medium-sized lawns less than an acre. These mowers are affordable and easy to use and do not require a lot of storage space. They are available as push-type and self-propelled variants and come in various sizes to suit the requirements of different people. Here are some of the popular walk behind mowers available from different manufacturers.
 Cub Cadet SC 100 HW
The SC 100 HW from Cub Cadet is an affordable push-type walk behind mower. It comes with a 159cc Cub Cadet OHV engine with auto choke. The mower has a 21" steel deck that features the Signature Cut system and deck washing port. It supports bagging, mulching, and side discharge cutting options. A dual-lever allows you to choose from six different cutting height adjustment positions. Its 8" rear wheels make it easier to navigate uneven lawns and yards. Cub Cadet provides a 3-year limited residential warranty on the SC 100 HW mower.
Yard Machines 12A-A0M5700 Self-Propelled Lawn Mower
The Yard Machines 12A-A0M5700 is an affordable walk behind mower that makes lawn maintenance easier. It has a 159cc Powermore OHV engine and a front wheel drive system. It's a self-propelled mower that is suitable for mowing small to medium sized lawns. The 21" steel cutting deck supports mulch and side discharge operations. You can adjust the cutting height from 1.25" to 3.75" using a dual-lever for giving your lawn the desired appearance. The Yard Machines 12A-A0M5700 mower comes with a 2-year limited warranty.
Troy-Bilt TB370 Self-Propelled Walk Behind Mower
The Troy-Bilt TB370 is a great walk behind mower that will reduce the time and effort required for mowing your lawn. It comes with a 163cc Briggs & Stratton engine and a rear wheel drive system. Its drive system not only eliminates the need for pushing the mower but also provides adequate traction allowing it to cover slippery and uneven terrains. The 21" cutting deck has the TriAction system that gives a clean and even cut. It supports side discharge, mulch, and rear bag operations. You can select a cutting height from 1.25" to 3.75" by choosing one of the six cutting height settings. The TB370 is ideal for small to medium sized lawns and comes with a 3-year limited warranty.
Honda HRX217VKA Lawn Mower
If you are looking for a premium walk behind mower, then consider the Honda HRX217VKA lawn mower. It comes with the Honda GCV190 engine which along with the Select Drive propels the lawn mower. You can control the speed using a dial with a maximum limit of 4mph. The NeXite deck is 21" wide and comes with Honda's Versamow System that allows it to shred leaves in addition to mulching, rear bagging, and side discharge operations. It has two MicroCut twin blades with four cutting surfaces that maximize its cutting prowess. You can set the cutting height from 0.75" to 4" using the seven height adjustment positions. Honda provides a 5-year warranty on the mower and a lifetime warranty on the cutting deck.
Sun Joe MJ401E Electric Lawn Mower
The Sun Joe MJ401E is an electric walk behind mower that tends to your lawn in an eco-friendly way. It has a 12-amp motor that drives its 14" cutting deck. The mower runs off the mains and comes with an extension cord. Its three-position height adjustment system allows the cutting height to be set from 1.18" to 2.52". The mower supports bagging and discharge cutting options and comes with a detachable rear bag. It is compact and lightweight at just 29lbs and can easily navigate through tight spaces. The Sun Joe MJ401E comes with a full 2-year warranty and is the ideal walk behind mower for home lawns up to 1/4 acres.